This article is a stub. You can help by adding more information to it.
Just press the edit button to start editing.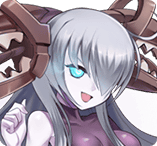 Epsilion is a mysterious humanoid Beast tank that players encounter as early as Volume 3.
Appearance
Edit
Epsilion takes the appearance of a little girl. She has long, pale hair, with purple eyes. She wears a purple suit, and has gears that look like giant mouths.
Personality
Edit
Epsilion behaves like a little girl, always thinking that everything she does is a game, not caring who she kills and has no moral beliefs in what she does. She's capable of speech and wants to talk with someone. She also has a huge apetite. She has high respects for Lambda, another humanoid Beast Tank, seemingly treating her like a relative, or even a friend.
Combat Statistics
Edit
Ammunition: APDS Discarding Sabot
Range: 1290
Firepower: 1 Star
Penetration:
5 Star